Inside:
Lyme disease bill signed into law
Former Madigan chief of staff convicted
State revenue continues to fall
Good turnout for Farmland Assessment Seminars
New law outlaws videoconferencing while driving
Lyme disease bill signed into law
This spring I sponsored a bill, SB 1803, which would help continue the fight against Lyme disease. The bill passed both houses unanimously, and I am proud to report that it was recently signed into law.
The Lyme Innovation Act is a statewide interagency multi-pronged approach to combat tick-borne illnesses in Illinois. It bolsters the state's capacity to combat the rapid expansion of tick-borne diseases, focusing on public awareness, education and outreach. It expands an existing pilot tick research program at the Illinois Natural History Survey, Prairie Research Institute at the University of Illinois to the entire state of Illinois. This program identifies species of ticks and tests them for tick borne disease.
Tick-borne illnesses like Lyme disease present an urgent public health challenge. Research indicates that 35% of deer ticks in Illinois are positive for Lyme disease. We can better protect Illinoisans from these diseases with better awareness and education about their spread and about prevention. This new law helps us to do that.
Madigan Chief of Staff conviction renews call for ethics reform
This week the former Chief of Staff to Michael Madigan, the once-powerful Speaker of the Illinois House, was convicted on charges that he lied to federal investigators looking into corruption charges against Madigan. Earlier this year several utility company executives were found guilty of participating in a bribery scheme tied to Madigan. Former Speaker Madigan will stand trial for corruption next spring.
House Republicans have proposed ethics reform legislation which would finally begin to address the corruption in Illinois state government. But the Democrats who control the Capitol have refused to give our bills a hearing or a vote. Our bills would ban legislators from also serving as lobbyists, give the Inspector General more investigative power, and keep lawmakers from using their campaign funds to pay legal expenses when they are accused of misconduct.
These reforms need to be a priority when the House reconvenes this fall.
State revenue continues to fall
Every month the General Assembly receives a report from the Commission on Government Forecasting and Accountability (COGFA), a non-partisan watchdog which keeps an eye on the state's fiscal condition. For several months now, COGFA has been warning that the state's fiscal condition is in danger.
The latest report was no different.
Back in May, the state passed a $50.4 billion state budget, despite warnings from Republicans that the end of federal COVID relief programs would mean less money coming to Springfield from Washington DC. Those warnings are coming true. In July, total revenue into the state treasury fell by $188 million compared to this time last year.
The end of federal relief funds were a main driver of this decline. Last July, Illinois received $584 million in COVID relief money through the federal ARPA program. This July, that figure fell to zero. Gains in other areas made up for part of the loss, such as increases in personal and corporate income taxes and interest on state funds and investments, but it was not enough to bring the balance back to positive. Sales tax revenue was flat, possibly indicating a cooling in the economy.
Passing a budget based on the expectation of a continued flow of money from Washington was a mistake. This latest report is just the latest warning sign.
Good turnout for Farmland Assessment seminars
On Tuesday we wrapped up our Farmland Assessment Seminar at Knox County Farm Bureau hosted by Knox and Mercer County Farm Bureau. We then traveled to Lavender Crest hosted by Henry and Rock Island Farm Bureau. Over 100 stakeholders attended the two-day event.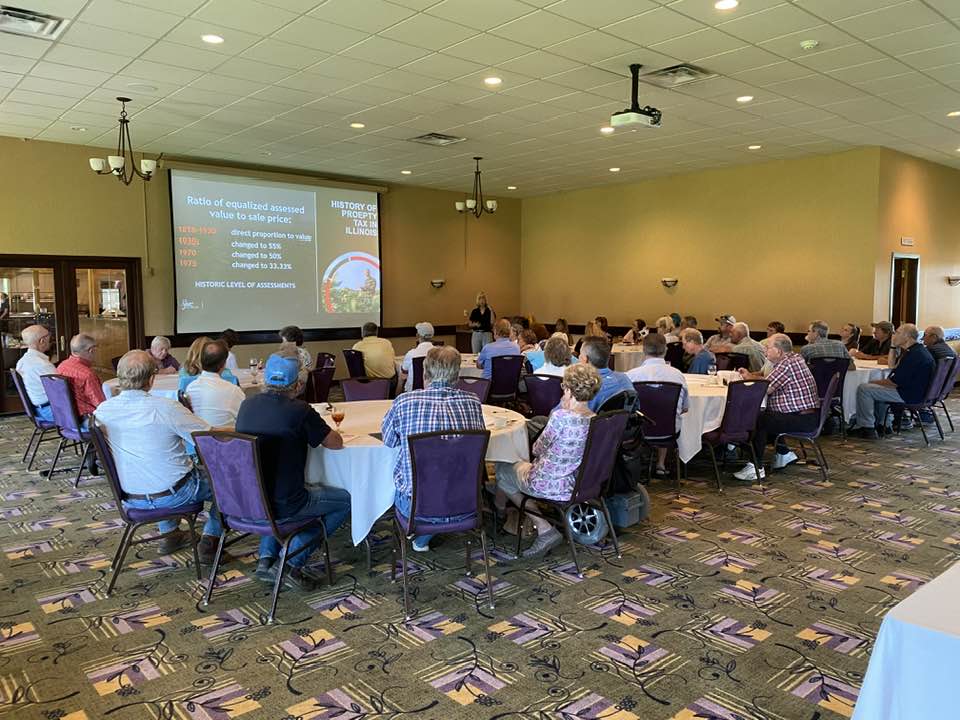 Monday we had outstanding turnout at both Macomb and Monmouth. Farmers, county board members, bankers, county assessors, landowners are just examples of a few groups of people who took advantage of this free opportunity to learn about farmland assessments and taxing process.
A thank you to the host County Farm Bureau offices and a big special thank you to Brenda Matherly of the Illinois Farm Bureau for providing the presentation.
Bill to outlaw videoconferencing while driving signed into law
Traveling around the state I am sometimes amazed by the things I see people doing when they should have their eyes on the road. Distracted driving crashes continue to be a serious problem on Illinois roadways, but now we have a new law going into effect to address at least one part of the problem.
House Bill 2431 passed this spring and has now been signed into law. It prohibits videoconferencing while driving. We saw a huge rise in the number of Zoom meetings and conference calls during the pandemic, and many of us continue to use this helpful tool. But please do not use it while driving.
Effective January 1, the new law bans participation in hands-on videoconferencing activities while driving. The idea was brought to the General Assembly by first responders and driving-safety professionals who had seen far too many accidents resulting from the use of these programs by a motorist who should have been watching the road.
More news
Fixing care for families in crisis
New Illinois law caps insulin cost at $35
Illinois State Police emphasize school bus, pedestrian safety
Local colleges recognized by Money Magazine as '2023 Best Colleges'
New Illinois law to cover students' attendance on cross-state events
Pritzker vetoes part of measure that would protect landowners