About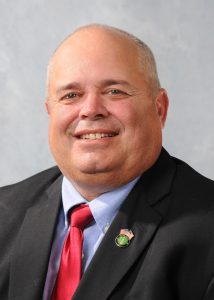 Lieutenant Colonel (retired) Daniel M. Swanson was born on July 30, 1959, in Woodhull, IL. He graduated from Al Wood Community Schools in May 1977, Black Hawk East in June 1986 and Western Illinois University in August 1994 with a Bachelor of Arts Degree, Board of Governors.
He enlisted in the Illinois Army National Guard on August 11, 1977 as a 63B Generator and Wheel Vehicle Mechanic. He was selected on March 1, 1980 to serve on an active duty tour with the Illinois Army National Guard. He attended Officer Candidate School at the Illinois Military Academy and commissioned a Second Lieutenant on June 14, 1986. He retired January 31, 2001 after 20 years Active Duty and over 3 years as a Traditional Guardsman.

After watching the soldiers he trained through his military career go to war, he volunteered and was recalled to active duty on July 1, 2007, to serve with the Multi-National Security Transition Command – Iraq; Coalition Army Advisory Training Team, Baghdad, Iraq. He was assigned as Deputy Director, Iraqi Army Force Generation. He coordinated and synchronized the recruiting, training, equipping and basing Iraqi Army units with Coalition and Iraqi Leadership. He completed his tour June 25, 2008 and returned to retirement July 14, 2008. Dan earned the Bronze Star and Combat Action Badge.
On April 3, 2010, he was recalled to Active Duty to serve with the Army Sustainment Command, Rock Island Arsenal and assigned as Chief, Logistics Synchronization and Integration Cell for the Lead Materiel Integrator Mission. He led a team of soldiers and civilians, which transitioned the mission to equip the Army from the Pentagon to Army Sustainment Command at cost savings and jobs. He returned to retirement April 2, 2013

He served as Superintendent, Henry County Veterans Assistance Commission providing financial aid and transportation services to Iowa City, Iowa Veterans Hospital for Henry County Veterans. He also provided financial assistance to veterans to pay utility, rent and purchase food.

Dan was sworn in on January 11, 2017 to proudly serve as Illinois State Representative and was inaugurated into his fourth two-year term in January 2023.

Dan served over 17 years on the AlWood (Alpha and Woodhull) Board of Education and served two years on the Henry County Board, but was required to resign when called back to Active Duty.

He is involved with the 6th generation Swanson family farm where he works with his dad, Ron; brother, Steve; son Matthew and nephew Josh near Andover, Illinois. They raise corn, beans, oats, wheat, hay crops and a cow/calf operation, cattle feedlots and hogs.
Dan is married to the former Tammy Snider of Kewanee. Dan and Tammy live near Alpha, Illinois and attend Alpha Baptist Church. They have two married sons; Mark is employed by Wyffels Seed and Abbi is employed by Helzburg Diamonds. They live in Marion, Iowa. Matthew is employed by Barman Seed and Sarah teaches Pre-K special needs children. Matt and Sarah have a daughter, Sadie Marie. They live near Andover, Illinois.