State Representatives Dan Swanson (R-Alpha) joined State Representatives Steve Reick (R-Woodstock), Jeff Keicher (R-Sycamore), Amy Grant (R-Wheaton) and Daniel Ugaste (R-Geneva) in urging lawmakers to authorize a private sector "deep dive" into state agency spending so that opportunities for cost savings and greater efficiencies can be identified.
"Rooting out waste, fraud and abuse needs to be more than a catch-phrase in Springfield," said Reick, Chief Sponsor of HJR06 and HB275. "Everyone acknowledges that inefficiencies plague our state government, and it's time for us to actually do something about it. I applaud our new Governor for taking executive action requiring agencies to examine their spending; it's a great start in trying to regain the trust of the people of Illinois. I offer these bills as a sign of good faith. These bills are a bipartisan attempt to help him with the task of providing optimal government services in this state as efficiently as possible."
Reick's HJR06 and HB275 are modeled after President Ronald Reagan's 1982 executive order calling for a private sector study on cost control, which resulted in the 1984 'Grace Commission' report. That audit led to 2,487 separate recommendations for streamlining government agencies in ways that would have saved hundreds of billions. "By identifying inefficiencies, redundancies and insufficient control over the operations of state agencies which result in inadequate services being provided at too high a cost, we can make adjustments and provide taxpayers with the value they deserve," Reick said.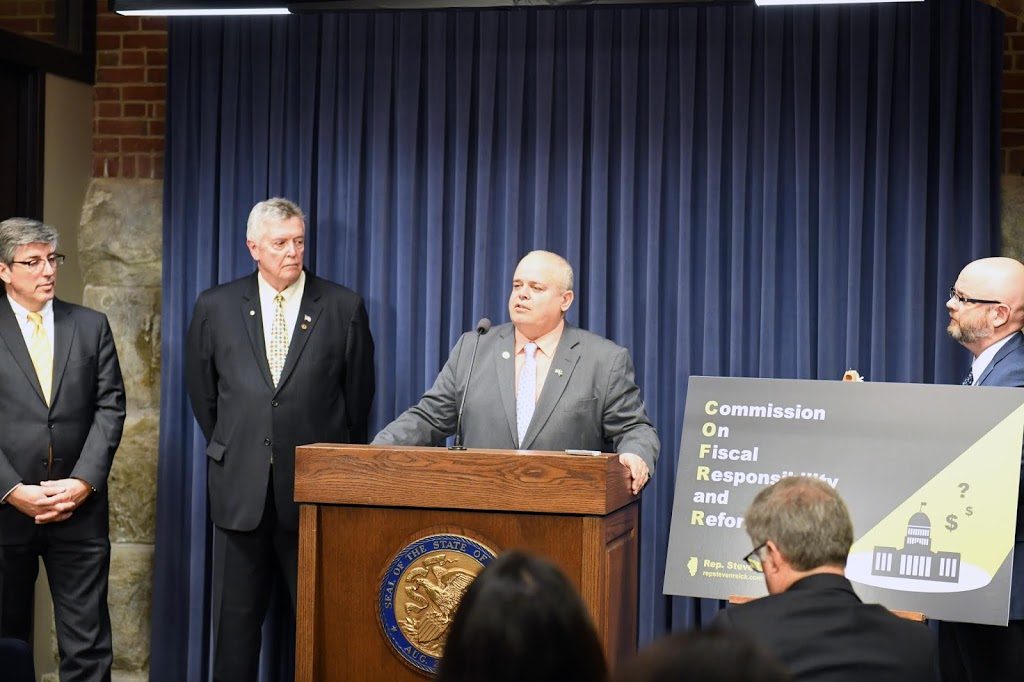 Chief Co-Sponsor Dan Swanson said that with the seating of a new administration, the timing is perfect for this type of audit. "The timing is right with a new Governor and newly appointed Directors to establish controls and hold State agencies accountable to gain efficiencies for Illinois' taxpayers," Swanson said. "A common practice in the military is for a new leader coming into their position to review the most current inspection reports to find deficiencies or areas of concern. This practice helped the leader establish priorities for building a cohesive organization," said Swanson, a retired Lieutenant Colonel. "I ask Governor Pritzker to review the Auditor General's reports, as many are revealing a lack of controls and best practices. I encourage him to use the reports as a tool to make reforms and achieve cost savings and efficiencies for Illinois' overburdened taxpayers."
Specifically, HJR06 provides the legislative intent for the establishment of the Commission and points to the State's obligation to provide public services necessary to ensure that Illinoisans can live in dignity and safety. HB275 creates the Commission on Fiscal Responsibility and Reform Act. The panel would consist of 18 voting members, including three members each appointed by the House Speaker, House Minority Leader, Senate President and Senate Minority Leader, and six members appointed by the Governor with not more than four members from the same political party. Like the Grace Commission, this Commission would be privately funded by soliciting contributions to be made to a 501(c)(4) social welfare organization as Commission members would not be paid, and results would be presented to the Governor and the General Assembly by October 1, 2020.
"States like Indiana and Virginia have successfully implemented accountability mechanisms to ensure that state agencies are operated in a cost-efficient and transparent manner," said Keicher, a Chief Co-Sponsor of the measures. "With the legislation we are introducing today, Illinois can take a much-needed step in that direction."
"The Auditor General's continued findings of weak internal controls at state agencies are troubling," said Representative Grant, a Chief Co-Sponsor of the bills. "There are Illinoisans who truly rely on the safety net government is supposed to provide, and when public funds are misused or spent irresponsibly, that safety net is threatened."
"One of my primary goals is to save the taxpayers money by making State government more efficient," added Representative Ugaste, another Chief Co-Sponsor of the legislation. "Passage of these bills would be a very good first step in that effort. While government can never be run exactly the same way as a business; the services government needs to provide just will not allow it; we must do a better job at being as efficient as we can in running government and in turn, with the taxpayers' money. Our residents are in need of tax savings and relief whenever and wherever we can provide it."