As the 2021 Veto Session of the 102nd General Assembly begins this week, Rep. Swanson is providing a preview and update before the legislature returns to Springfield.
The Illinois General Assembly will convene in Tuesday, October 18, with a congressional redistricting map as the chief focus of attention. 
On Friday, October 15, the Democratic majority released a proposed map of new congressional boundaries for Illinois.
The Chicago Sun-Times reported that the new congressional map, based on the 2020 Census, was drawn to favor voters electing Democrats in 14 districts leaving only 3 where Republicans can easily win. The current map, based on the 2010 Census has Illinois sending 13 Democrats and 5 Republicans to Congress.
There are also two issues gaining lots of attention in the media. First, Illinois Democrat lawmakers have signaled there may be some kind of effort coming to repeal the requirement of parental notification before minor children can receive abortion services or other major medical care. Rep. Swanson stands with parents in adamantly opposing this change! Another big topic for Veto Session could be the Governor's desired changes to the Health Care Right of Conscience Act that allows for religious and other exemptions. Current law bars discrimination in medical care based on one's religious beliefs.
Veto Session Preview – Possible Topics Include Parental Notification Repeal, Changes to Health Care Right of Conscience Act, New Congressional District Maps
There is much speculation that Illinois Democrats will work to pass legislation to eliminate the requirement that health care providers notify the parents of minor children prior to receiving an abortion or other major medical procedure during the upcoming Veto Session.
Illinois already has some of the least restrictive laws of any state in the country for who can get an abortion, when someone can get an abortion, and taxpayer funding of abortions. that can be performed up to and including the moment of birth. Rep. Swanson strongly opposes this progressive push by government into parenting, and will be voting NO on any attempt to further remove parents from health care decisions involving their children.
Pritzker eyes changes to the Health Care Right of Conscience Act (HCRCA)
For over a year and a half now, Governor Pritzker has refused demands by Republicans that he work with the legislature to manage the State of Illinois' response to the COVID-19 pandemic. The governor has been successful in fighting back legal challenges to his emergency power and authority in most, but not all cases. Illinois' current Healthcare Right of Conscience Act is seen by Governor Pritzker as a hurdle that stands in the way of him being in absolute control of the state's COVID response.
In light of Governor Pritzker's vaccine mandates for school teachers, some individuals have filed lawsuits citing the 1998 Healthcare Right of Conscience Act, and a provision in the law that allows exemptions from such mandates citing religious objection.
The HCRCA prohibits "all forms of discrimination, disqualification, coercion, disability or imposition of liability upon such persons or entities by reason of their refusing to act contrary to their conscience or conscientious convictions in providing, paying for, or refusing to obtain, receive, accept, deliver, pay for, or arrange for the payment of health care services and medical care."
Governor Pritzker has indicated he favors changing these protections, calling the law 'outdated' in a recent press conference. It would take a new law being passed in order for the governor to get his way. The potential move is seen as a way for the Pritzker Administration to protect its right to mandate health care procedures and vaccines to aid in its defense in pending lawsuits. The governor may ask supermajority Democrats to give him legal cover by changing the law. This would also be the first time the legislature has weighed in on changes to any laws governing the COVID-19 pandemic medical and public safety response. Rep. Swanson opposes efforts to hand even more power to Governor Pritzker after already living under 19 months of continuous rule by Executive Order.
Rep. Swanson has detailed legislative efforts to involve the legislature in pandemic related decisions over the past two years and continues to oppose this kind of Executive overreach by Governor Priztker.
Democrats' proposed Congressional Redistricting Maps drawn behind closed doors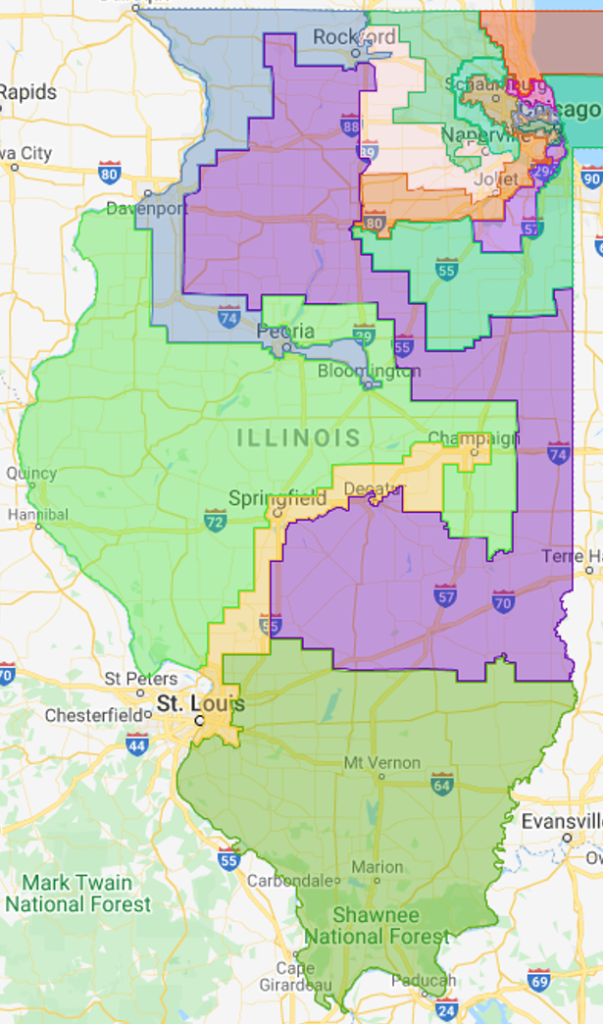 On Friday, October 15, the Democratic majority released a proposed map of new congressional boundaries for Illinois.
The Chicago Sun-Times reported that the new congressional map, based on the 2020 Census, was drawn to favor voters electing Democrats in 14 districts leaving only 3 where Republicans can easily win. The current map, based on the 2010 Census has Illinois sending 13 Democrats and 5 Republicans to Congress.
Below is a statement from House Republican Leader Jim Durkin (R-Western Springs) on the recently released Illinois Congressional maps:
"In another insult to Illinois voters, Democrats drew more partisan maps to benefit their incumbent politicians and protect Nancy Pelosi's failing majority."
The Illinois House Redistricting Committee held more sham "hearings" on the congressional map this week, but none of the witnesses who testified before the committee were allowed to see the proposed map. At least one witness asked to see the new map, discuss it with community groups, and review the new map and the process used to draw it. The majority Democrats ignored that witness' request.
Thursday was the first time the committees returned to the Capitol. However, there were more reporters than lawmakers in the room. No one from the public showed up to testify virtually or in-person.
Rep. Tim Butler (R-Springfield) was the only committee member in the House committee room. Butler stressed that the majority party continues to ignore groups who testify. That's why he feels no one is showing up to give their suggestions for the new maps.
"People want an open transparent process where they know what's going on," Butler said. "That they get ample time, at least two weeks, which multiple groups have said, to respond to any maps that are introduced, and to do it in an open and transparent manner."
Finalized hearings for the House and Senate Redistricting Committees are as follows:
· House Hearing: Wednesday, October 20 at 9:00 a.m. at the Illinois State Capitol, Room 114
· Senate Hearing: Wednesday, October 20 at 2 p.m. at the Illinois State Capitol, Room 212 (Virtual Hearing – participants may testify at the hearing location or via Zoom)
CRIMINAL LAW
Violent crime continues to increase in Illinois.  Data compiled by the Federal Bureau of Investigation (FBI) showed that in 2020, the annual count of murders surged nearly 30% throughout the United States compares with the previous year.  One of the highest rates of the 2020 annual increase among the 50 states was recorded in Illinois, with overall violent crimes up by 4%.  In 2020, 426 violent crimes were reported for every 100,000 people.  "Violent crime" is a precise phrase used in law enforcement to reflect an incident where a victim is harmed by or threatened with, personal violence.  Violent crimes include sexual assault, robbery, assault, and murder.
Despite the surge in violent crime, during the January 2021 lame-duck session, Democrats in the Illinois General Assembly passed a new law that will reduce law enforcement's ability to fight crime and will release violent criminals back onto our streets.  Law enforcement, and Illinois House Republicans, have pushed back against the negative effects of this new law.  Although Illinois media reports continually tell the story of increasing violent crime in our state, Illinois Democrats have thus far refused to take steps to modify their dangerous law. 
BUDGET
Illinois faced with more than $4 billion in unemployment insurance debt.  Along with twelve other states, Illinois borrowed money from the U.S. Department of Labor (USDOL) to cover its outstanding unemployment insurance (UI) benefit payments. The USDOL lent the money under Title XII of the federal Unemployment Insurance Act, a section of federal code that requires the states to pay interest and service the principal. Title XII came into play during the 2020-21 coronavirus pandemic and associated job layoffs.
As of Wednesday, October 13, Illinois' UI debt to Washington, D.C. was more than $4.4 billion dollars, representing the fourth highest sum owed by the thirteen states with current Title XII debts. Only California, New York, and Texas have Title XII debts surpassing those of Illinois. Illinois began accruing interest on this debt on September 6, accumulating over $3.54 million in interest penalties in just over a month. This interest payment is due by September 30, 2022.
At the current time, the Title XII debts owed by the Illinois unemployment insurance system are legally separate from the other debts owed by the State of Illinois. However, federal law could also impose future tax penalties upon employers in states that default on their Title XII UI debts, which places pressure upon Illinois to service and refinance this obligation.
Federal guidance allows the State of Illinois to use the $8.1 billion it received in American Rescue Plan Act of 2021 (ARPA) funds to pay down its UI Trust Fund liabilities; however, no ARPA funds have been dedicated to that purpose. It is not clear as to how much of the State's ARPA funds remain unencumbered, but according the Governor's Office of Management and Budget documents released this summer, there could be as little as $2.3 billion remaining. The Governor and Democrat majorities in the General Assembly have seemingly prioritized pork projects and new spending with the available ARPA lifeline funds, appropriating $2.8 billion for capital projects and programmatic spending. Additionally, the Pritzker administration has begun to discuss borrowing additional money to refinance this debt.
According to GOMB's budget documents, the Governor is also reserving $2-$3 billion in ARPA funds to help fund essential government services in FY22. Appropriated funds ($2.8 billion) when added to ARPA funds held in reserve ($2-$3 billion) leaves only $2.3-$3.3 billion in ARPA funds remaining from the $8.1 billion the State received. To make matters worse, these ARPA funds are intended to last the State until the end of calendar year 2024. It is clear that under the current budget framework laid out by the Pritzker administration that there is only enough remaining ARPA funds to cover half of the UI Trust Fund deficit.