Inside:
End of session approaches
Upcoming senior fair in Galesburg
Summer reading club
More news
Thank you for subscribing to my e-mail newsletter. You can get more news and information about state government by visiting my website at repswanson.com.
Spring session coming down to the wire
Today was originally the House's scheduled adjournment day, the last day of the spring session, but it now appears we will be in Springfield for a little bit longer. It's been a very productive session, though some of what the House has produced has not been very positive.
I want to give you a brief update on what we have done so far this week and what is still left to be done before we adjourn. I will have more information for you in next week's newsletter.
Ethics bills still not moving, budget yet to be resolved
Two of the biggest issues facing the legislature this spring are ethics reform and the state budget. The corruption convictions of close allies of former Speaker Mike Madigan and the need to keep state services funded next year give these two issues quite a lot of urgency. But so far, we have come to no resolution.
House Republicans put forward several ethics reform proposals, but they have not been given a hearing, let alone a vote. We have to improve state government's ethical climate or we are going to keep seeing more and more scandals and malfeasance.
Earlier this month we learned that the state brought in $637 million less in April than was expected. The state Constitution requires that the budget be balanced, so we will have to account for a drop in revenue before we know how much is available to spend. Budget committees and working groups have been meeting for months, but once again it looks like we might see a massive budget bill presented and then quickly voted on with little time for analysis or inspection.
This is how wasteful spending makes its way into law. We have to break this bad habit before it breaks us.
State and federal Supreme Courts reviewing Illinois' gun ban
This week the Illinois Supreme Court heard arguments regarding the gun ban legislation that was passed and signed in January. Numerous lawsuits have been filed in state and federal court disputing the Constitutionality of the law. Having heard the arguments from both sides, the Court has not released a timeline for when it might announce a decision.
The federal court challenges to the law are working their way to the U.S. Supreme Court in Washington. This week the Court decided not to halt enforcement of the law while it considers the case. As with the state Supreme Court, the Justices in Washington will release a ruling, but it is not known when that will occur.
Knox County Senior Fair on Wednesday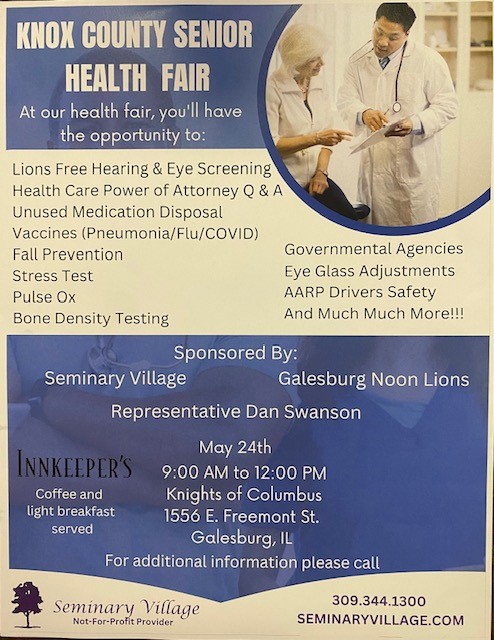 Next week I am joining with Seminary Village in Galesburg and the Galesburg Noon Lions Club to host a senior fair at the Galesburg Knights of Columbus Hall, located at 1556 E. Fremont Street. The event will be Wednesday May 24 from 9 a.m. until noon.
There will be over 40 vendors present with booths for you to explore, including a great team of local, state and federal agencies. The Knox County Health Department will be on hand offering vaccinations. You can even enjoy coffee and a light breakfast sponsored by Innkeepers while you check out the informational exhibits.
For more information, please call (309) 344-1300, or my office at (309) 334-7474.
Oceans of Possibilities
This summer I am proud to once again offer my summer reading club for kids. This year's theme is Oceans of Possibilities. Those students who read eight books this summer will receive an official Illinois House of Representatives Certificate of Recognition and an invitation to an ice cream party at the end of the summer.
The Summer Reading Club challenges 1st through 4th graders to read eight books during their summer break. Books for local library programs are also acceptable and books over 150 pages may count for two books.
You can find out more at RepSwanson.com/read, or by calling my office at (309) 334-7474.
More news
State Police celebrate Trooper Frank's homecoming after Scott's Law crash two years ago
Economist says loss of wealth will hamper Illinois' future economic condition
Agribusiness today: Planting continues around Illinois