Inside:
State budget signed
Constitutional challenges only to be heard in Chicago & Springfield
Ransomware attack on state government
Clover Township FPD celebrates 75 years
Thank you for subscribing to my e-mail newsletter. You can get more news and information about state government by visiting my website at repswanson.com.
State budget signed into law, revenue continues to decline
The Governor has signed the big-spending state budget into law, including the pay raises for legislators and health care for undocumented immigrants. Meanwhile, the Commission on Government Forecasting and Accountability, the government agency which monitors the state's fiscal condition, reports that personal income tax payments to the state fell by $1.1 billion for the first eleven months of the fiscal year, which ends June 30.
Sales tax payments were up, as were corporate income taxes, but the cost of the expansion of the undocumented health care program will wipe out those gains. The continued decline in revenue, paired with the increased spending, throws this budget out of balance.
The state Constitution requires the budget to be balanced. It also requires any legislative pay raise to not take effect until the next General Assembly is sworn in. But both of those requirements seem to have fallen by the wayside with this budget.
In order to pay for all this new spending, the budget includes a series of gimmicks and sleights-of-hand, like holding back as much as $700 million in funds for local governments – a deficit those communities will have to make up somehow – and continuing to underfund the caregivers for our developmentally-disabled community.
As I said before: the devil is in the details, and the more details we learn, the worse this budget gets.
Constitutional challenges only to be heard in Chicago & Springfield
In Illinois, any citizen who feels his or her constitutional rights have been violated may go to their local courthouse and file a lawsuit against the state to stop the action from occurring. These kinds of challenges were recently filed against the SAFE-T Act, the COVID mandates and other such state actions, oftentimes successfully. But now the state is acting to take away the ability of Illinoisans to file such lawsuits locally, instead requiring them to travel to Springfield or Chicago to do so.
I opposed House Bill 3062 because it will make it much harder for Illinois citizens to go to court when they feel the state has violated their constitutional rights. People in our area or in other parts of the state should be able to go to their local county courthouse to seek justice. They should not have to travel all the way to Springfield or Chicago, with all the costs associated with such a trip, in order to protect their rights.
A representative who's district is about a four-hour drive from Springfield pointed out in debate on this bill that Democrats had received court rulings that went against them on the SAFE-T Act, COVID executive orders and the gun ban, but instead of changing the laws to make them compliant with the Constitution, they sought to change the rules and restrict access to the courts instead. This is just flat out wrong.
State's IT agency reports ransomware attack on state government
Illinois state government was hit by a ransomware attack last month according to information released by the Department of Innovation and Technology (DOIT).
The attack was believed to have been launched by a global ransomware group and used a file-sharing software program to target state agencies, as well as agencies in Canada and the United Kingdom. In Illinois the attack was contained within a few hours, but DOIT is still working to determine how far it had spread.
A ransomware attack involves an unauthorized person accessing a computer system and then demanding money under the threat of locking down the system or releasing sensitive information online. Illinois was targeted by a ransomware attack in 2021 when the Attorney General's office was hit. At that time the state did not pay a ransom, but had to spend more than $2 million to get systems back to normal.
Congratulations to the Clover Township Fire Protection District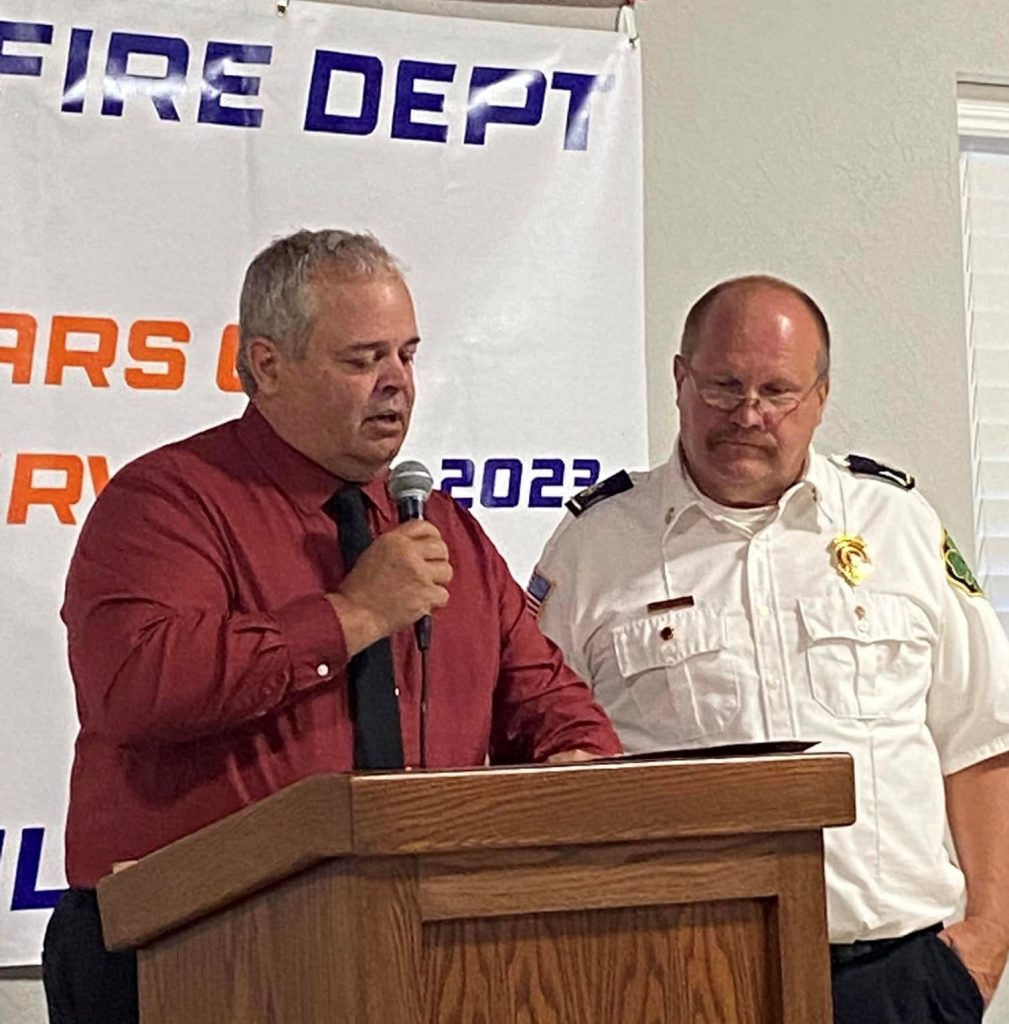 I recently had the honor of participating in a celebration of the 75th anniversary of the Clover Township Fire Protection District. I presented Chief McDowell House Resolution 324 congratulating Clover Fire Protection District for its 75 years of service.
Thank you to the men and women of the Clover Fire for being there for our community.
More news
United Way of Knox County kicked off summer lunch and new activity program this week
Rock Island County Farm Bureau awards $20K in scholarships
Latest high-profile public corruption trial hits Illinois amidst Democrats' inaction on ethics reform
'Junk' removal company remains busy as more people opt to leave Illinois