Inside:
Swanson-sponsored law will protect military family benefits
Farm to Food Bank program made permanent
Illinois paid out billions in fraudulent or excessive unemployment claims during COVID
Farmland Assessment Seminars coming up
Military family benefits legislation signed into law
A new law I sponsored in the House will help ensure that survivors of Illinois veterans receive the full benefits they deserve.
The Governor has signed House Bill 2856, that would add a "Yes, Likely or Unknown" requirement to veterans' death certificates to clarify if a military service-related injury contributed to the cause of death. This change would better reflect service-connected illnesses and injuries potentially caused by such factors as exposure to radiation or chemicals like Agent Orange. With this more accurate information, families of deceased veterans would be better able to claim benefits to which they are entitled.
The need for the new law was brought to me by the family of a deceased veteran who was denied certain death benefits just because his death certificate did not include the full range of information about the conditions which led to his death.
A grieving family of a veteran should not have to jump through bureaucratic hoops to get a death certificate amended in order to receive the benefits they deserve. This change spares them that additional trauma, and I'm thankful for all who helped us get it signed into law.
Farm to Food Bank program made permanent
Another bill I supported, HB 2879, which makes the Farm to Food Bank program permanent, has been signed into law.
The Farm to Food Bank program existed as a pilot program for the past two years. It is intended to help farmers, food banks and people in need. This legislation expands access to the program and makes it permanent.
The program creates a process to acquire and distribute fresh fruits, vegetables, meat, poultry, dairy and eggs to organizations which provide free food to those who need it. The law requires that the food come from Illinois producers.
The pilot program demonstrated its success over the past two years, when almost 2.5 million pounds of food were donated.
Illinois paid out $5.2 billion in fraudulent or excessive unemployment claims during COVID
The Illinois Auditor General has released a report which found that the state paid out $5.2 billion in fraudulent or excessive unemployment claims during the COVID pandemic. Of these payments, $46 million went to people who were either incarcerated or deceased.
The Department of Employment Security (IDES) overpaid by $2 billion from the regular unemployment insurance and $3.2 billion from the federal Pandemic Unemployment Assistance program. The audit found that only about 10% of the funds have been recovered.
Unemployment surged in Illinois after Governor Pritzker issued shutdown orders that lasted for many months, closing down businesses and forcing Illinois residents out of work. "IDES was not prepared to respond to the needs created by the pandemic," says the report. "IDES did not have a plan for responding to recessions and potential surges in claims."
Throughout the pandemic, as IDES offices stayed closed and unemployed Illinoisans struggled to make contact with anyone at IDES to assist them with their claims, Republicans called for reforms at IDES and offered ideas for solutions, only to be shut out. The audit shows the expensive price tag of the mismanagement and failures at IDES.
Farmland Assessment Seminars coming up August 21-22
I will be joining forces with our local Farm Bureau offices to host a series of Farmland Assessment Seminars throughout the area on August 21 and 22.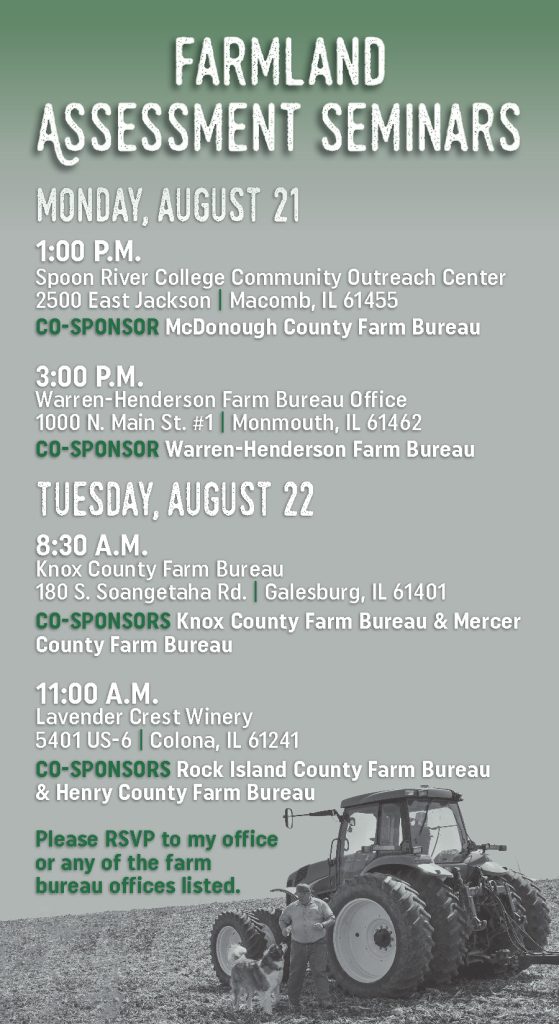 As a farmer myself I am well aware of the impact that increased farmland assessments and their effect on property taxes can have on farmers. The purpose of these seminars is to help our local farmers get the facts they need to understand this system and what it means for them.
There will be four meetings spread over two days.
1 p.m. Monday August 21 – Spoon River College Community Outreach Center, 2500 E. Jackson, Macomb
3 p.m. Monday August 21 – Warren-Henderson Farm Bureau Office, 1000 N. Main Street, #1, Monmouth
8:30 a.m. Tuesday August 22 – Knox County Farm Bureau, 180 S. Soangetaha Road, Galesburg
11 a.m. Tuesday August 22 – Lavender Crest Winery, 5401 U.S. 6, Colona
All farmland owners or farm managers are invited to attend. Residency in the host county is not required.
The presentations will be made by Brenda Matherly, Director of Local Government Affairs with the Illinois Farm Bureau, and will give attendees a better understanding on how farmland assessments are calculated and the long-term impact of those values.
To accommodate seating and materials, please pre-register with my office or your local Farm Bureau.
More news
New hours and appointment requirements: here are some changes coming to Galesburg's DMV
Illinois prisons need $2.5 billion in repairs, and that's just the beginning
Former Madigan chief of staff on trial for perjury, attempted obstruction of justice
Lion Electric plant will build EV school buses near Joliet
47,000 Illinois residents lose Medicaid coverage
Illinois State Police announce new online crash reporting system