Inside:
New legislation to address humanitarian crisis
Governor to split up troubled department
Harvest coming to a close
Kewanee sisters were House Pages for a Day
New legislation would address humanitarian crisis affecting Illinois
In recent months Illinois has found that it is no longer immune from the humanitarian crisis at the southern border. Six years ago, Illinois enacted the TRUST Act, legislation which turned the state into a sanctuary for undocumented immigrants. Today, with the southern border out of control, hundreds of thousands of migrants are coming to Illinois and overwhelming our social service agencies, creating a humanitarian crisis which must be addressed.
It is estimated that more than 600,000 undocumented immigrants are now in Illinois, over 3500 of them living on the floor of police stations in Chicago because the city has nowhere else to house them. This influx is costing Illinois taxpayers $3 billion every year.
This year's state budget included $550 million for a program to provide health care benefits to undocumented immigrants. The projected cost of the program for this year alone was recently revised to $831 million, and the state agency responsible for it has now been forced to announce a suspension of new enrollees.
Something has to be done at the state level to discourage undocumented immigrants from coming to Illinois and overwhelming our state's resources.
Last week I joined more than 30 other House Republicans in sponsoring legislation to repeal the TRUST Act and end Illinois' sanctuary state status. Without action, and soon, this situation is only going to get worse.
Governor Pritzker to split up trouble-plagued department
The Illinois Department of Children and Family Services (DCFS) has come under much criticism in recent years for repeated failures to protect the children in its care. Its outgoing director has been held in contempt of court multiple times, and a trial in McHenry County recently returned a guilty verdict in the case of a DCFS worker charged with endangerment in the case of a child who was killed in 2019. It is believed to be the first time in history that a government employee tasked with child protection was found guilty of child endangerment. Other management failures with serious implications for children have come to light over the past few years.
At long last, Governor Pritzker has proposed an action to address these failures, though time will tell whether it is enough. The Governor proposes to create a new agency, the Early Childhood Program Agency, to inspect and regulate child care service environments, preschools and early intervention programs.
The move is being met with some skepticism by those aware of the long list of failures at the state's child welfare agency. State Rep. Steve Reick of Woodstock, one of the leading voices for reform of DCFS, spoke on the House floor last week, saying "If we don't have some sort of accountability both in this agency and in DCFS, nothing's going to change."
Harvest season moving toward its close
Like most Illinois farmers I have been spending a lot of time in the field over the past few weeks bringing in the harvest. And to make it special I had a couple of visitors ride with me in the combine.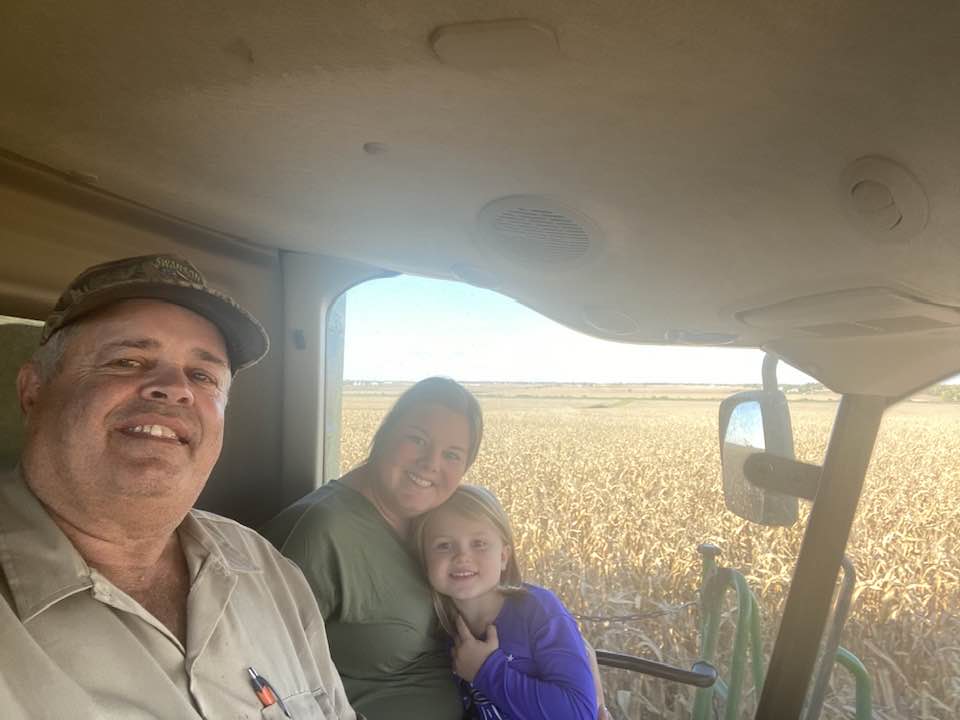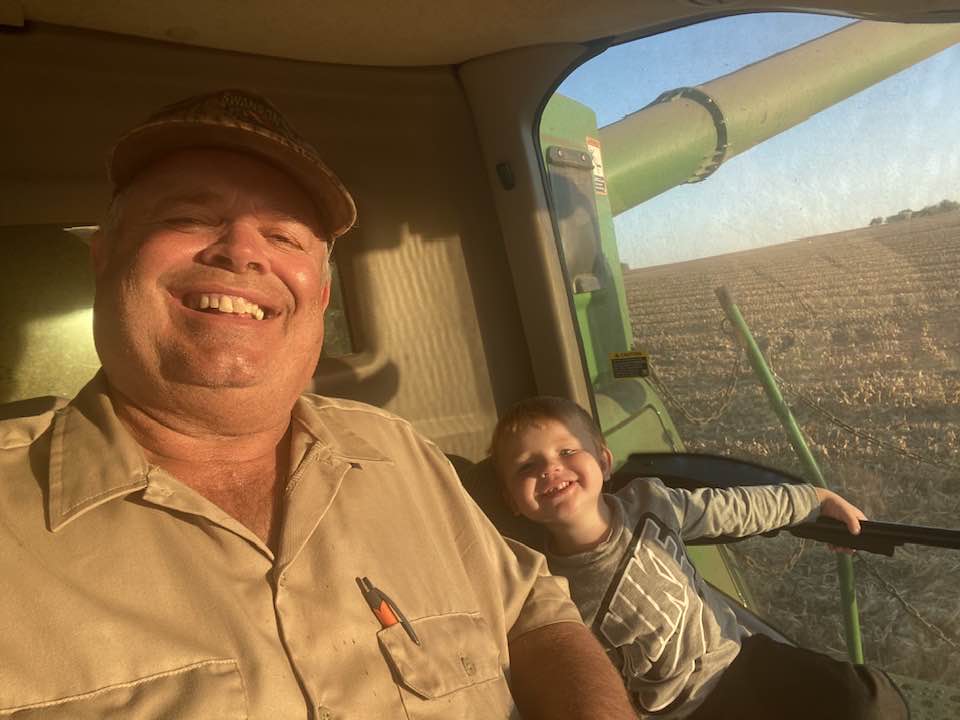 Just in time for the cold weather to arrive this week, the Illinois Crop Progress report showed that farmers around the state were quickly moving toward finishing up this year's corn and soybean harvest.
More than 70% of the corn crop was harvested by last week, up from 52% a week earlier. The bean harvest was running even farther ahead, at 80%, up from 61% the week before. Operators of pastureland were concerned about the dry conditions, however, with 45% of Illinois pastureland said to be in poor or very poor condition.
Kewanee sisters are House Pages for a Day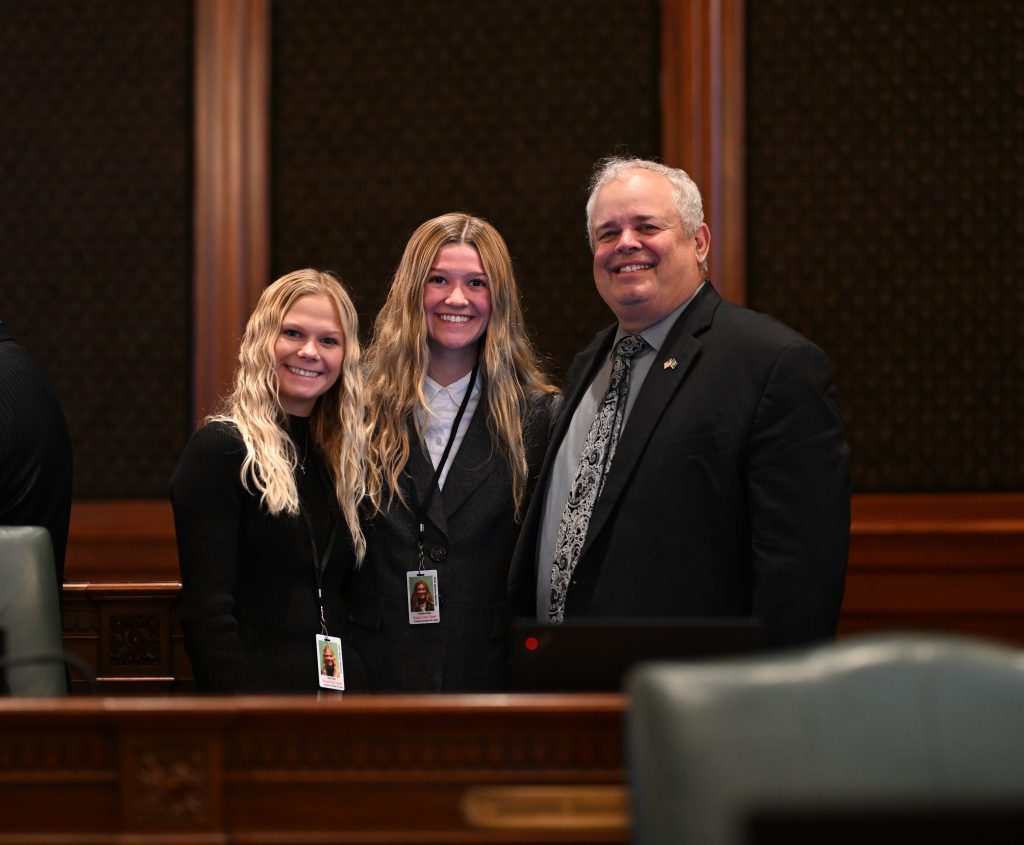 Last week I hosted sisters Traidan and Daci Hier of Kewanee as Pages for a Day in the Illinois House of Representatives. It is great to have tomorrow's leaders visit us in Springfield to see how our legislative process works. Traidan and Daci got to explore the Capitol, meet legislators and see the House of Representatives in action.
Traidan is a senior at Wethersfield High School, where she is active in softball, cheerleading, golf, FFA, Key Club, student council, yearbook and National Honor Society. She does tutoring and volunteering in the community and is the two-term president of the FFA chapter at Wethersfield.
Daci is a sophomore at Augustana College where she majors in psychology and business administration. She is a member of the Augustana College cheerleading team, a member of the Augustana Republican Club, and made the school's dean's list last semester. She was the valedictorian of her graduating class at Wethersfield High School.
They are the daughters of Dan and Tracy Hier. The Hiers are an eight-generation Henry County farm family.
More news
Illinois, other states, sue Meta, claiming its social platforms harm children's mental health
Controversial pipeline canceled amid safety concerns, regulatory pushback
Illinois tech hubs to focus on crop production, quantum computing White House says
Rural communities struggle to afford ambulance services amid rising costs
Time change 2023 is about to fall back! When clocks move an hour for Daylight Savings Time