COVID-19
NOTICE: Illinois is currently in Phase 3 of the Governor's Restore Illinois Plan, with some businesses continued closed while others have begun re-opening. Illinois is expected to move into Phase 4 in late June. To learn more about Phase 3 or 4, what is open and how we move forward to the next phase, please click here.
Where can businesses find guidelines for reopening and returning people to work safely?
The Department of Commerce and Economic Opportunity has a site set up here to address those questions, including their Phase 3 Business Toolkit.
If a non-essential business is operating unlawfully during the Stay at Home Order, where can a complaint be filed?
Complaints about non-exempt businesses operating unlawfully during the Stay at Home Order can be reported here.
EXECUTIVE ORDERS ISSUED BY GOVERNOR JB PRITZKER (FULL LIST). See the full list and link to the full text of every Executive Order issued by the Governor since January 1, 2020.
COVID-19 RECOVERY RESOURCES
Statewide Telehealth/Mental Health Programs
A person who is showing COVID-19 symptoms, or is at high risk for contracting the virus, but does not require emergency or inpatient care, and can be digitally monitored at home can access a Statewide Telehealth hotline to assist with remote monitoring programs. The State of Illinois/ OSF Healthcare Hotline number is now available: (833) 673-5669. More information can be found at osfhealthcare.org.
Pandemic Health Workers (PHWs) will virtually visit recipients daily, deliver wellness kits that include essential tools to monitor their health, and follow-up over a 14-day period to ensure no further assistance is needed. Wellness kits will include items such as thermometers, pulse oximeters, blood pressure cuffs, and alcohol wipes.
EMOTIONAL SUPPORT TO FAMILIES
The Department of Human Services launched a free emotional support text line, for Illinois residents experiencing stress and mental health issues related to COVID-19.
Individuals who would like to speak with a mental health professional can text:
• For English services text "TALK" to 5-5-2-0-2-0
• For Spanish services text "HABLAR" to 5-5-2-0-2-0
Individuals can also text 5-5-2-0-2-0, with key words such as "unemployment" or "food" or "shelter" and will receive information on how to access these services.
ECONOMIC ASSISTANCE TO FAMILIES
HEALTH INSURANCE
A Special Enrollment Period (SEP) is available on the ACA Health Insurance Marketplace for people who have lost their employer-based health insurance coverage due to a job loss. Job loss is considered a "Qualifying Life Event" for special enrollment. Some people may also qualify for subsidies (tax credits) to help reduce monthly premiums and out-of-pocket costs. VisitGetCovered.Illinois.gov.
If a spouse or domestic partner has employer-based health insurance, their partner who lost insurance coverage can often be added to the employer-based plan. Since there are time limits for enrollment, individuals should check with their employer or insurance carrier for details.
Medicaid may be an option for persons with limited or no income. The federal-and-state-funded health insurance program has year-round enrollment and is based on monthly income, not annual income.
Continuation of employer-based health insurance through COBRA may also be an option. The Consolidated Omnibus Budget Reconciliation Act (COBRA) gives workers and their families who lose their health benefits the right to choose to continue group health benefits provided by their group health plan for limited periods of time under certain circumstances such as voluntary or involuntary job loss, reduction in the hours worked, transition between jobs, death, divorce, and other life events. Qualified individuals may be required to pay the entire premium for coverage up to 102% of the cost to the plan.
Health insurance for pregnant women and children is also available. Moms & Babies covers women during pregnancy and for 60 days after the baby is born. Family Care and All Kids also provide health insurance benefits.
Unemployment benefits may be available to some individuals whose unemployment is attributable to COVID-19.
A list of frequently asked questions and answers has been compiled by my office here.
YOU ASKED, SO WE GOT ANSWERS— What actions are taken to address the high volume of calls at IDES claims services line?
IDES hired additional staff and expanded their business hours to vulture the extremely high volume of calls. The caller is advised to try their call again if they get a busy signal. When the call gets through, there will be an average wait of 20-30 minutes before they speak to a specialist. To date, the department has taken several steps to improve the unemployment benefit claims process via the online portal and the call center.
The website has been moved to new hardware infrastructure to handle the increased demand
Web, storage, and processing capacity has been increased to meet needs of increased traffic
Methods have been implemented to track COVID-19-related claims
Call center capacity has been increased
Daily call center hours have been extended to respond to those waiting in the queue after closure
Call center staff has been supplemented by 40% to cut down on wait times
Both the website and the call center will continue to be monitored for improvements in functions and abilities
In addition to these measures, IDES is now asking individuals to adhere to an alphabetized schedule when filing an unemployment benefit claim online and over the phone. This process mirrors other states, such as Colorado and New York, who are experiencing increased web traffic and high call volumes with their unemployment benefit systems.
Call Center Filing Schedule:
FOR ON-LINE APPLICATIONS, click here. If your last name begins with letters:
o A through M file your claim on Sundays, Tuesdays, Thursdays.
o N through Z file your claim online on Mondays, Wednesday, Fridays.
*Saturdays – anyone who missed their window can apply.

FOR PHONE APPLICATIONS, call (800) 244-5631. If your last name begins with letters:
o A through M call between 7:30am – 6pm on Tuesdays and Thursdays.
o N through Z call between 7:30am – 6pm on Mondays and Wednesdays.
*Fridays (7am-6pm) & Saturdays (8am-noon) – those who missed their window can call.
The day or time of day in which a claim is filed will not impact whether you receive benefits or your benefit amount. Additionally, claims will be back-dated to reflect the date in which a claimant was laid-off or let go from their job due to COVID-19.
IDES is currently working through an unparalleled number of unemployment benefit claims and questions, both online and through the call center. IDES is doing everything possible to support our customers and meet the demand for unemployment benefit inquiries and claims.
Those with questions or in need of assistance with unemployment benefit at this time are encouraged to visit IDES.Illinois.gov.
YOU ASKED, SO WE GOT ANSWERS— If a business decides to shut down voluntarily before mandated, will staff be able to qualify for unemployment? And does this go against the employer if they do so? If a business decides to shut down, employees would be potentially eligible for benefits and are advised to open a claim as soon as possible. IDES is working with the Governor's office on legislation that would remove charge ability to employers for claims involving COVID-19 related issues.
FEDERAL STIMULUS PACKAGE IMPACT ON UNEMPLOYMENT
Federal Pandemic Unemployment Compensation (FPUC). FPUC provides an additional $600 each week in 100% federally funded benefits to anyone entitled to regular state unemployment benefits, PEUC, PUA, EB, or certain
other specialized unemployment benefits. FPUC is potentially available for weeks beginning on or after March 29, 2020 and continuing through the week ending July 25, 2020.
Pursuant to the federal legislation, this $600 will not be retroactively applied to unemployment claims that arose prior to March 29, 2020. In many cases, individuals will also be eligible for more weeks of unemployment above the 26 weeks provided under regular unemployment rules. Both benefits will be applied automatically if you qualify.
Status: FPUC was implemented and began disbursing funds being disbursed the week starting April 5, 2020, which was the first week the federal legislation allowed FPUC to be paid.
Pandemic Unemployment Assistance (PUA)
PUA provides 100% federally funded unemployment benefits for individuals who are unemployed for specified COVID-19-related reasons and are not covered by a state's regular unemployment insurance program, the extended benefit (EB) program under Illinois law, or the Pandemic Emergency Unemployment Compensation program (PEUC), including self-employed sole proprietors. Up to 39 weeks' worth of benefits are potentially available under the program for COVID-19-related unemployment claims. PUA claims will be backdated to the individual's first week of unemployment, but no earlier than February 2, 2020, and will continue for as long as the individual's remains unemployed as a result of COVID-19, but no later than the week ending December 26. The program is intended to be similar to the federal Disaster Unemployment Assistance program, which provides unemployment benefits in response to local disasters. This is a brand-new program that requires an entirely new system to be built from scratch by IDES.
Status: IDES is contracting with Deloitte to implement and maintain a web-based solution for PUA. Deloitte has been building a PUA system for
Colorado, and it will be modified to fit Illinois law. While a program of this
magnitude might normally take up to a year to design and implement, the
department is committed to getting this program online by the week of May 11, 2020.
Pandemic Emergency Unemployment Compensation (PEUC)
PEUC provides up to 13 weeks' worth of 100% federally funded benefits to
individuals who have exhausted their rights to regular state unemployment benefits up to 26 weeks in Illinois. PEUC is potentially available for weeks beginning on or after March 29, 2020 and continuing through the week ending December 26, 2020. PEUC will be retroactive once implemented.
Status: IDES received USDOL guidelines on April 10 and expects the program can be implement through the current IDES computer system the week of April 20.
What do I do if I have already received my maximum benefits?
Some individuals who have received their entire 26 weeks of regular unemployment benefits may be eligible for more weeks of benefits under the stimulus package. If you have exhausted your benefits, or you are close to exhausting your benefits, we are finalizing the process to continue benefits under the stimulus package. Details will be available as soon as we have received further guidance from the US Department of Labor.
HOUSING
The Governor has ordered all state, county and local law enforcement cease enforcement of orders of eviction during the duration of the Gubernatorial Disaster Proclamation and until to July 31, 2020. No provision contained in the Executive Order 10 must be construed as relieving any individual of the obligation to pay rent, to make mortgage payments, or to comply with any other obligation that an individual may have under tenancy or mortgage.
A Rent & Mortgage Assistance Program funded with $300 million is under development by the Illinois Housing Development Authority and will be available in August 2020. More information will be posted at ihda.org.
Housing counselors designated by the Illinois Housing Development Authority can help you understand your options if you are having trouble paying your mortgage. They can communicate with your mortgage lender or servicer on your behalf and help you find legal representation if necessary. Counselors can also help you create a budget to manage your expenses and possibly stay in your home. All services are free. Find a counselor near you today and begin to get the help you need.
AFFORDABLE RENTAL HOUSING. ILHousingSearch.org will allow you to search thousands of affordable, subsidized and market rate units throughout Illinois. You can customize your search based on your specific needs, budget, and desired location. The service is also available through a toll-free, bilingual call center at: (877) 428-8844.
JOBS (NOW HIRING)
Job Openings and resources compiled by the Illinois House Republican Caucus.
Who's Hiring list from the Illinois Retail Merchants Association. Illinois grocers throughout the state are looking to hire. Simply click on the name of the grocer and submit an application. Many are hiring on-the-spot.
FEDERAL & STATE INCOME TAX DEADLINE POSTPONED
Both Federal & State Income Tax Day has been moved from April 15 this year to July 15. All taxpayers and businesses will have this additional time to file and make payments without interest or penalty. Taxpayers may still file at any point prior to July 15, an action which is especially encouraged if the taxpayer is due a refund to allow the taxpayer to get their money more quickly.
The Illinois Department of Revenue produced an Informational Bulletin describing the change.
ASSISTANCE TO EMPLOYERS
In addition to loans and grants from the US Small Business Administration, the Illinois Department of Commerce and Economic Opportunity (DCEO) has put together a comprehensive list of Emergency Resources to Businesses here.
Business advisors at our Illinois Small Business Development Centers (SBDCs) are available to assist small businesses with the loan application process and are currently operating remotely. Businesses can locate their nearest Small Business Development Center here.
TAX CREDITS TO EMPLOYERS FOR PAID SICK AND PAID FAMILY MEDICAL LEAVE Subject to certain limits, in the case of an employer, there shall be allowed as a credit an amount equal to 100 percent of the qualified sick leave wages and qualified family leave wages paid by the employer with respect to the calendar quarter.
BUSINESS INSURANCE COVERAGE. Business Insurance Issues Resource Page from the Illinois Department of Insurance can be found here.
SALES TAX DEFERRAL FOR BARS & RESTAURANTS. The Illinois Department of Revenue will defer sales tax payments for more than 24,000 small and medium sized bars and restaurants- accounting for nearly 80% of all such entities statewide. Establishments charged less than $75,000 in total sales tax liability last year will not be charged penalties or interest on payments due in March, April or May made late. Qualified taxpayers must still file their sales tax return on time, even if they are unable to make a payment. Informational Bulletin with more on this here.
PAYCHECK PROTECTION PROGRAM
Creates forgivable SBA loans administered through local banks
Helps small businesses, non-profits, independent contractors, and self-employed
Limited to under 500 employees
Maximum loan of $10 million
Business must good-faith certify that funds are needed for COVID-19 related purposes and funds will be used to retain workers
Eligible expenses include payroll (including for tipped workers), insurance, rent, mortgage, and utilities
Amount spent by borrower in the first 8 weeks from loan origination may be forgiven; amount reduced proportionate to reductions in workforce as compared to previous year; if rehires made during 8 week period, no penalty in reflection of possible layoffs early in the 8 week period.
Loan payments will be deferred for 6 months. 
Anything not forgiven or repaid by 12/31/20 will convert to a max 10 year loan at a max 4% interest rate; loan will remain 100% guaranteed
Payroll costs are capped at $100,000 on an annualized basis for each employee. Due to likely high subscription, it is anticipated that not more than 25% of the forgiven amount may be for non-payroll costs.
More information about how small businesses can apply and a checklist has been compiled by the U.S. Chamber of Commerce here.
Please go to the U.S. Treasury Department's website here to get the full guidance. If you're a lender, CLICK HERE for more information. If you're a borrow, CLICK HERE for more information. If you're a small business looking for the application, CLICK HERE. 
Starting April 3, 2020, small businesses and sole proprietorships can apply. Starting April 10, 2020, independent contractors and self-employed individuals can apply. We encourage you to apply as quickly as you can because there is a funding cap.
The U.S. Small Business Administration and the Treasury Department released two Paycheck Protection Program (PPP) loan-forgiveness application forms vis-à-vis loan forgiveness application forms and an EZ application form.  SBA Release 20-48 the new EZ version of the PPP loan-forgiveness application is available for borrowers that:

Are self-employed with no employees, or
Did not reduce salaries or wages of their employees by more than 25% and did not reduce the # of hours for their employees, or
Had reductions in business activity as a result of health directives related to COVID-19, and did not reduce employee salaries or wages by more than 25%

PPP Loan Forgiveness EZ Application here
PPP Loan Forgiveness Application here
Both applications provide an option of using the original eight-week covered period or an extended 24-week covered period.  
FEDERAL CARES ACT
What does it mean to Illinoisans? Congress approved and the President has signed the Coronavirus Aid, Relief, and Economic Security Act (CARES). The $2.2 trillion economic rescue package provides help for families, small business, hospitals, local governments and others. A brief outline of the CARES Act can be found here. A Small Business Owner's Guide to the CARES Act can be found here.
GRANTS
Illinois Hospitality Emergency Grant Program
$14 million total program to provide working capital grants to small businesses
Grants available to hotels, bars, and restaurants ($10k, $25k, and $50k levels)
Applications for the Grant Program will be accepted on dceocovid19resources.com until April 1, 2020 at 5:00pm. Qualifying businesses will be notified by April 4, 2020 and funds will be made available within two days of receiving the necessary bank information
Selections made via lottery
Awardees from the the lottery system for this funding can be found here.
Downstate Illinois Small Business Stabilization Program
$20 million total program for working capital grants
Offers $25k grants to employers up to 50 employees
Funds available in collaboration with local governments that do not receive direct CDBG allocations
Large urban communities are not eligible for this program. These communities will likely receive increased direct federal funding.
NONPROFIT GRANTS
The United Way of Illinois and the Alliance of Illinois Community Foundations announced the launch of the Illinois COVID-19 Response Fund (ICRF), a new statewide fundraising effort to support nonprofit organizations serving those whose lives have been upended by this pandemic.
The ICRF is launching with nearly $23 million in initial donations. In the upcoming weeks, the steering committee will evaluate and disburse funds to the initial wave of charitable organizations serving at-need communities across the entire state. All donations and distributions will be available to the public. Donations and applications for assistance can be made here.
LOANS
Illinois Small Business Emergency Loan Fund
Low interest loans to small businesses up to $50,000
Must be located outside of Chicago
Eligible businesses have fewer than 50 employees and less than $3 million in 2019 revenue
5 year repayment period with no payments due for the first 6 months
Businesses should complete and submit an expression of interest on https://www2.illinois.gov/dceo/SmallBizAssistance/Pages/IllinoisSmallBusinessEmergencyLoanFund.aspx. Lending partners will begin accepting official applications and will contact eligible business that have expressed interest on April 1, 2020.
"Business Invest" Low Interest Bridge Loans backed by State Treasury
Illinois small businesses can tap into $250 million in low-interest bridge loans as soon as this week to help push through the COVID-19 pandemic.
The State Treasurer's office will make $250 million available to Illinois banks and credit unions that wish to participate. The financial institutions will determine who is eligible for the loans. Here is the current list of approved financial institutions providing loans.
Through this program, the Treasurer's Office would partner with approved financial institutions to provide loans — either lower rate loans, or loans to a business or non-profit that would not otherwise qualify — to Illinois small businesses impacted by the COVID-19 pandemic.
State funds would be deposited with qualified financial institutions for a 1-year term at a near-zero deposit rate of 0.01% (0.0001).
Deposits could be drawn in $1 or $5 million increments, up to a maximum of $25 million per financial institution.
Deposited funds would facilitate affordable loans (not to exceed 4.75%) to small businesses and non-profits that could be used to provide bridge funding, pay fixed debts, payroll, accounts payable and other bills.
Eligible Illinois businesses or non-profits must: (1) have been shut down or limited due to COVID-19; (2) have less than $1 million in liquid assets or $8 million average annual receipts (per SBA standards); and (3) be headquartered in the state of Illinois or agree to use the funds in Illinois.
Deposits would be renewable as determined by the Treasurer's Office.
Financial institutions would be required to provide reports to the Treasurer's Office regarding the usage of program funds, including the number and types of loans provided and the economic impact of such loans.
FOOD SECURITY
SNAP & WIC. The Illinois Department of Human Services is submitting multiple waivers to the federal government to deliver as much nutrition support to as many Illinoisans as possible. DHS has been able to automatically extend SNAP certifications set to expire March, April or May, another six months until September, October and November. DHS has also been able to waive the physical presence requirements for SNAP applicants and participants, enabling people to further reduce the time that they spend outside their homes and increase the ability to apply for assistance online.
DHS Director Hou indicated that the recent passage of the federal Family First legislation will cause monthly SNAP benefits to increase dramatically – in some cases by over 90%, a month. For example, a single person with a disability, or an older adult with less than $2,000 of monthly income is eligible for $194 in monthly SNAP benefits. Now, before the legislation passed, they would have received $16 a month. A family of four making less than $42,000 a year is now eligible for $646 a month in SNAP benefits.
Between April 8th and April 20th, all eligible SNAP recipients will see their first additional funds if they are not currently receiving the maximum benefit. This will impact more than 450,000 Illinois households. The additional funds are intended to help Illinoisans obtain food and support for their families during the COVID-19 pandemic. The maximum SNAP benefit amounts will be implemented for April and May. It is not known at this time whether these extended maximum payments will continue beyond May.
Increased benefits will be automatically loaded onto SNAP recipients' Link cards, and there is no need for anyone to re-apply, to visit an office, or to call. All new applications authorized in April will also receive the maximum allotment for their household size.
CHILD LUNCHES. The USDA has launched of an online tool – the "Meals for Kids" Site Finder – to help families find meals for children while schools are closed during the coronavirus pandemic. The "Meals for Kids" interactive map directs people to local sites where kids can get free meals. The map is available in both English and Spanish at www.fns.usda.gov/meals4kids.
UTILITIES
On March 18, 2020, the Illinois Commerce Commission formalized an order to cease disconnections and the threat of disconnections during the COVID-19 public health emergency. This applies to electric utilities, natural gas, water, and waste water utilities. The order also calls on them to suspend late payment fees until May 1, 2020, or the crisis has passed, and to implement flexible utility credit and connection procedures to ensure customers remain connected to essential utility service when the emergency status ends.
A consumer protection effort, initiated by the Illinois Commerce Commission, helps ensure eligible residential and small business utility customers can continue to receive life-saving electric, gas, water and sewer services once the moratorium on disconnections for non-payment and late payment fees expires. On June 18, the ICC voted unanimously in favor of a stipulated agreement negotiated by Commission Staff, the Attorney General's Office and other consumer advocate groups, and the state's largest utilities, offering temporary, more flexible credit and collection procedures to customers financially hard hit by COVID-19. A separate agreement was also approved with smaller electricity, gas and water utilities that serve Illinois residents.
The large utility stipulated agreement covers eight of the state's major utility companies, including: Aqua Illinois, Illinois-American Water Company, Utility Services of Illinois, Inc., Ameren Illinois Company, Northern Illinois Gas Company (Nicor Gas), North Shore Gas Company, The Peoples Gas Light & Coke Company (Peoples Gas), and Commonwealth Edison (ComEd). The terms of the stipulated agreement with the large utilities include extending the moratorium on disconnections and suspension of late payment fees until Illinois enters Phase 4 of Governor Pritzker's Restore Illinois plan, or August 1, 2020, whichever comes first, and for an additional 30 days beyond that for most customers. The large utilities will then have 30 days to notify residential consumers with
past due balances on their account about the more flexible payment and bill assistance options available and how to enroll before disconnection notices are sent.
Other meaningful provisions of the large utility agreement will allow residential customers struggling to pay their utility bills to pay back accrued balances over an extended period of time depending on financial hardship. The customer's expression of financial hardship can be verbal and not require documentation. Additionally, reduced down payments on deferred payment arrangements (DPAs) will be available, and for those eligible for the Low Income Home Energy Assistance Program (LIHEAP) or other bill payment assistance, DPAs will be offered with no down payment.
Among other terms of the stipulated agreement with the state's largest utilities are:
Deposits associated with late or non-payment arrearages or credit related issues for new or existing customers shall be waived for at least six months for residential customers who express financial hardship.
Utilities must reconnect customers previously disconnected for nonpayment and waive any reconnection fees for a period of at least six months for LIHEAP qualified customers and customers experiencing financial hardship.
Reconnection information and temporary credit and collection policies must be displayed on utility websites.
Utility companies will continue their current practice of not reporting late payments and nonpayment for active customers to credit bureaus and reporting agencies.
Extensive reporting by the utility companies is required to ensure compliance with the stipulated agreement and monthly disconnection, credit and collections data must be reported by zip code or service region or district so that the commission may evaluate the impact on various communities.
The Commission also approved a similar consumer protection focused agreement with five of Illinois' smaller utility companies, namely Consumers Gas Company, Illinois Gas Company, Liberty Utilities Corp., MidAmerican Energy Company, and Mt. Carmel Public Utility Company. In alignment with the large utility agreement, the agreement with the small utilities suspends disconnections and late fees for nonpayment until Illinois enters Phase 4 of Governor Pritzker's Restore Illinois plan, or August 1, 2020, whichever comes first. Among a variety of independent commitments, the small utility agreement further provides protections for residential customers through temporary waivers of reconnection fees and new deposit requirements, as well as more flexible DPA terms.
FREE INTERNET ACCESS RESOURCES. The Illinois State Board of Education (ISBE) is providing information on programs offering free internet access to Illinois families to support learning during the school closures. Information on these resources can be found at ISBE's Keep Learning website.
Illinois launched its Drive-Up Wi-Fi Hotspot Map as part of a multi-agency effort to improve Broadband access in the State. The publicly available hotspots indicated on this map are available for remote learning and other uses at this time.
HOW TO HELP/ CALLS TO ACTION
Visit serve.illinois.gov for more info on volunteering.
The Illinois COVID-19 Response Fund has been established to support Illinois nonprofits and the individuals, families and communities hit hardest by the COVID-19 pandemic. The fund announced its first round of grant distributions on April 8 of $5.5 million to 30 organizations that serve families across 96% of the state's population by providing people with access to food, shelter, healthcare and more. To date, the fund has raised more than $28 million from nearly 2,000 donors, and many more rounds of funding will be coming soon.
BLOOD SUPPLY
AMERICAN RED CROSS. The Red Cross urges healthy individuals to give blood amid coronavirus concerns. Low donor turnout could hurt U.S. Blood supply. Learn more and schedule if you're feeling healthy and well here.
MISSISSIPPI VALLEY REGIONAL BLOOD CENTER. The Mississippi Valley Regional Blood Center urges healthy individuals to give blood amid coronavirus concerns. Low donor turnout could hurt U.S. Blood supply. Learn more and schedule an appointment if you're feeling healthy and well here.
MEDICAL PERSONNEL & PERSONAL PROTECTIVE EQUIPMENT(PPE)
HEALTHCARE PROVIDER REGISTRATION. The State of Illinois is calling on all licensed healthcare providers, available to help in the fight against COVID19, to register at www.IllinoisHelps.net. This includes physicians, nurse practitioners, registered nurses, physician assistants, medics, LPNs, CNAs, Podiatrists and Dentists.
RETIRED HEALTHCARE WORKERS. On March 21, the Governor announced a call to action in the fight against COVID-19 for anyone working in the healthcare related field who has let their licenses lapse or chose to retire. He is calling on physicians, nurses, physicians' assistants, and respiratory therapists to come back and join the fight against this outbreak. To make this process easier the Governor will be implementing the following actions in the very near future: Waving fees and expediting licensure for healthcare positions; Automatically extending licenses soon to expire; Making it easier for out-of-state healthcare professionals to practice here, that way border communities can deploy physicians where they are needed most. Applications available online at IDFPR's website include: Health Care License Reinstatement Physician License Reinstatement Out of State Temporary Practice Permit
PERSONAL PROTECTIVE EQUIPMENT (PPE). During this unprecedented public health emergency, supplies of PPE for healthcare providers are being rapidly depleted. Health care personnel need to protect themselves when caring for patients by adhering to infection control and prevention practices, which includes having access to a sufficient supply of PPE. On March 17, IDPH provided guidance to hospitals, outpatient surgical and procedural centers to limit non-essential adult elective surgical procedures, including all dental procedures until further notice. IDPH is encouraging all outpatient surgical and procedural centers, ambulatory surgical centers, and veterinarians to donate their unused PPE that is not immediately needed to assist those on the frontlines in the fight against COVID-19. Especially of need are surgical gloves, gowns, goggles, face shields, surgical masks, and N95 respirator masks. To donate PPE, please e-mail PPE.donations@illinois.gov. In addition, the Illinois Biotechnology Innovation Organization (iBIO), working with the State, has established a fund so people and organizations can donate money to help healthcare workers and first responders here.
PPE AND CRITICAL SUPPLIES PROCUREMENT. With Illinois well-positioned with in-state manufacturers of diverse goods and services, leads or connections on COVID-19–related goods or services (i.e. PPE) can be sent to the State for maintaining elements of the critical supplies supply chain. Businesses interested in supplying the necessary goods/needs for the current crisis, can contact the Governor's Office related to these offers of products at Covid.procurement@illinois.gov. If a business wants to retool to manufacture PPE in Illinois, they may also contact the Illinois Manufacturing Association at ima@ima-net.org.
SOCIAL DISTANCING GUIDELINES/ COMMUNITY EVENTS
The CDC recommends the use of cloth face coverings when out in public. Everyone should still adhere to social distancing guidelines like staying 6 ft apart, washing hands frequently, and staying home as much as possible, but a face covering is one more way to help slow the spread of COVID-19 in our communities. The U.S. Surgeon General put out this video on how to make your own here. Guidance from the Illinois Department of Public Health on the use of face masks by the general public can be found here.
RELIGIOUS SERVICES
Guidance on holding in-person religious services can be found here.
SCHOOLS
To further safeguard our communities from the spread of the virus, Governor JB Pritzker has declared mandatory school closures for all schools, both public and private, serving Illinois pre-kindergarten through 12thgrade students.
This mandatory closure takes effect March 17 and was extended on April 17 through the end of the school year.
No formal announcement has yet been made about in-person classes in the Fall, but ISBE has encouraged school districts to be prepared for remote learning if needed.
ISBE & IDPH issued Guidance for school Graduation Ceremonies here.
CHILD CARE CENTERS & EARLY EDUCATION PROGRAMS
Governor Pritzker's Executive Order on March 20, 2020, all child care programs are closed. Where possible, children should be kept at home. However, we know that is not an option for some of our essential workers.
COVID-19 Resources for Families with Young Children, including what child care looks like in Phases 3 & 4 can be found here.
PETS AND COVID-19 (ADVICE FOR PET OWNERS)
The CDC is now recommending people follow social distancing guidelines with their pets after a small number of animals, including dogs and cats, were reportedly infected with the virus that causes COVID-19.
CDC urges people to restrict their pets from interacting with other animals when outside their house and to keep cats indoors when possible.
Dogs should be leashed when out for a walk and be kept at least six feet from other people or animals.
If you're sick with COVID-19 or suspected to have the virus the CDC says to limit contact with pets and other animals. Avoid petting, snuggling, being kissed or licked, and sharing food or bedding with your pet.
The new guidelines come after several pets in the U.S. became infected with the virus.
AGRICULTURE
Summer 4-H Fairs– University of Illinois Extension, the university's public outreach program that includes Illinois 4-H, is transitioning to virtual 4-H Livestock shows for the Summer. More information and frequently asked questions can be found here.
State Fair– The Governor officially cancelled the 2020 Illinois State Fairs at Springfield & DuQuoin.
RECREATION
State Parks & Trails– All IDNR sites are now open, weather permitting. Learn more here.
Guidelines for health & fitness Centers, driving ranges, golf courses, paintball pits, Day Camps, youth sports, and more can be found in DCEO's website for Phase 3 here.
Swimming Facility guidelines for Phase 3 can be found here.
GOVERNMENT
The Secretary of State Offices begins a limited reopening June 1. Visit www.cyberdriveillinois.com for more information.
REAL ID DEADLINE EXTENDED. The REAL ID enforcement deadline has been extended beyond October 1, 2020. The new deadline for REAL ID enforcement is October 1, 2021. More information from the Illinois Secretary of State on the new REAL ID deadline can be found here.
The Office of the Governor is working closely with all state agencies to ensure essential services will continue to be provided, while taking steps to protect the health and safety of state workers.
The State Capitol Building, Stratton Office Building (Springfield), Howlett Building (Springfield), and the James R. Thompson Center (Chicago) will be closed to the public until further notice. The essential government functions that the people in this building perform will continue during this time. Elected officials, essential State of Illinois employees and credentialed members of the media will be allowed to enter Capitol Complex buildings.
LOCAL GOVERNMENT
Executive Order 2020-07, issued on March 16, suspends the Open Meetings Act provisions relating to in-person attendance by members of a public body.
Public bodies may choose to postpone or cancel public meetings and are encouraged to do so if they expect over 50 attendees. If a large meetings does need to occur, preventative steps are encouraged to promote social distancing.
Freedom of Information Act- Public bodies are encouraged to continue to comply with FOIA and respond wit each request promptly, to the extent they are able to, given the limitation on staff and resources during this time. FOIA extensions are allowable and requestors are encouraged to work with their local government to agree on reasonable and appropriate response times.
IML Provides Comprehensive COVID-19 Resources to Municipal Officials. During the spread of the COVID-19 outbreak, the Illinois Municipal League has made it a priority to send comprehensive and timely information to the 1,298 cities, villages and towns throughout Illinois. IML has been sending daily updates to municipal officials highlighting the different state and federal resources being made available from answers to frequently asked questions to loan programs being made available to address the economic impact of the outbreak and much more. IML is posting all of this information and more on our COVID-19 resources page available at iml.org/covid
GROCERIES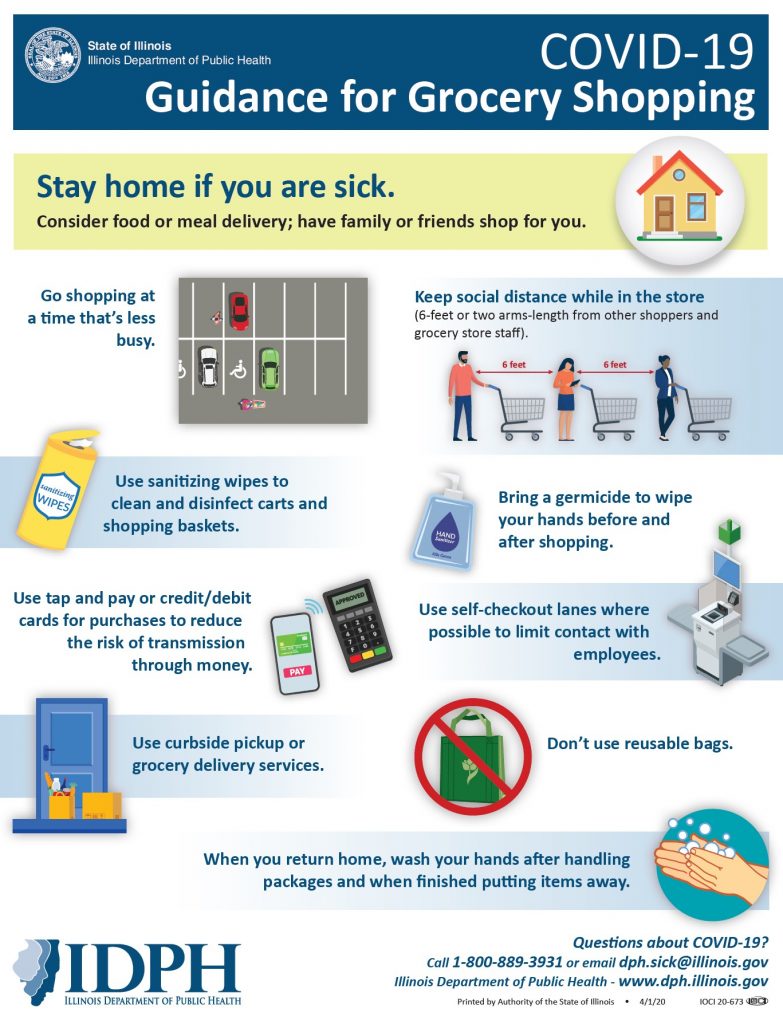 Many grocery stores have set special hours for seniors and vulnerable population to purchase groceries due to COVID-19. A list of those special hours is maintained by the Illinois Retail Merchants Association here.
BUSINESSES AND WORKPLACES
DCEO's Phase 3 information for businesses and workplaces can be found here.
RESTAURANTS & BARS
Outdoor dining may be added to drive-thru, curb-side, delivery or take-out/carry-out services by restaurants in Phase 3. Learn more here.
Resources for Restaurants & Bar Owners:
TRANSPORTATION
NON-COMMERCIAL– The Illinois Department of Transportation (IDOT) has announced all roads, bridges and rest areas will remain open 24/7, barring necessary construction or maintenance closures. Travelers can visit www.GettingAroundIllinois.com for more information on rest area locations.
PUBLIC SAFETY/ LEGAL/ CONSUMER PROTECTION
CONSUMER PROTECTION. The Office of the Illinois Attorney General is taking action against reports of price gouging on critical products tied to the pandemic. Consumers should report instances of unfair practices to the Attorney General. The Office also warns against COVID-19 marketing scams. Complaints can be filed here.
Tips to avoid scammers taking advantage of stimulus checks.
LEGAL

NOTARIZING/ WITNESSING. Are individuals obligated to attend in person any legal witnessing such as getting documents notarized or witnessing signing a will? Per Executive Order 14, any act of witnessing required by Illinois law may be completed remotely by via two-way audio-video communication technology provided certain requirements are met. Please refer to the Executive Order 14 for further guidance.

Firearm Owners Identification Card/ Concealed Carry Licenses. On April 9, the Illinois State Police filed emergecy rules regarding FOID & CCL renewals. These rules are designed to provide FOID card holders and CCL relief from the renewal requirements during the effects of COVID-19 pandemic.

These rule changes are as follows:

FOID card holders, who submit their renewal application will remain valid during the duration of the state's disaster proclamation and for a period of 12 months following the termination of the disaster, even if their renewal application is/was not submitted prior to expiration.
CCL licensees, who submit their renewal application, will remain valid during the duration of the state's disaster proclamation and for a period of 12 months following its termination, even if their CCL renewal application was not submitted prior to expiration.
CCL licensees will not be required to immediately submit proof of three-hour training with their CCL renewal application.
CCL licensees will need to submit proof of their three-hour renewal training within 12 months following the termination of the state's disaster proclamation in order to maintain the validity of their CCL license.

ISP will continue to enforce both FOID and CCL prohibitors. FOID card holders who receive revocation notices shall return their FOID and Firearm Disposition Record form to the Illinois State Police. CCL holders who receive revocation notices shall return their CCL license to the Illinois State Police.
These new rules are effective immediately (beginning April 9)
Illinois State Police UPDATED FOID and CCL FAQ website– https://www.ispfsb.com/Public/Faq.aspx

FACE COVERINGS- CCL HOLDERS- According to the Illinois State Police, the Governor's Executive Order regarding the wearing of masks or protective facial coverings in public settings during this serious global pandemic was not intended to negatively impact permit holders under the Illinois Concealed Carry Act while legally carrying firearms. The Executive Order does not require or suggest that law enforcement should arrest or criminally charge conceal carry license permit holders for wearing protective masks while in public as long as they are complying with the other provisions of the Illinois Concealed Carry Act and are not committing any other violations of Illinois law. ISP has confidence that law enforcement officers across the state will use appropriate judgment and that elected State's Attorneys will likewise exercise sound prosecutorial discretion.
DOMESTIC VIOLENCE. The Illinois Department of Human Services is dedicating $1.2 million to increase the capacity of its current statewide network of services and to streamline access to emergency shelter for individuals and families impacted by domestic and sexual violence. Those experiencing domestic violence and/or abuse, plus anyone concerned about a friend, family member, or loved one, can call toll free at 1-877-TO-END-DV (1-877-863-6338) to be connected to shelter through existing local domestic violence shelters or connected to emergency shelter through available hotels and motels. Victims and families can also visit the National Domestic Violence Hotline at http://www.thehotline.org or text LOVEIS to 22522.
VULNERABLE POPULATIONS
The State and the City continue to focus outreach efforts for those most vulnerable to severe illness from the coronavirus, our elderly and immunocompromised residents.
Individuals who fall into these categories should take extra caution when attending gatherings of any size and avoid exposure to large groups of people whenever possible.
Information and resources for vulnerable populations have been compiled here.
The State has implemented new staffing procedures and strict guidelines restricting visitors at state-operated long-term care facilities and is also working closely with private nursing home and assisted living associations on the adoption of similar guidelines.
The CDC has published specific advice for people at higher risk and vulnerable populations here.
SENIORS– The Illinois Department on Aging announced a halt to group services and hosted social interactions – increasing one on one services. In-home serviced and home delivered meals will not be interrupted. IDOA is activating the state's volunteer network to help assist in the efforts. If you know any senior that needs assistance then please visit The Illinois Department on Aging website.
Congregate Living Facilities (Staff Masking)– Until further notice, IDPH recommends that congregate living facilities serving vulnerable populations (a skilled nursing facility, an assisted living facility, a group home, a homeless shelter, or a correctional setting) implement a universal-masking policy requiring all staff to wear a mask when working. This includes staff responsible for direct interaction or care involving residents as well as staff who do not normally interact directly with patients and residents, such as administrative, dietary, environmental services, and facility maintenance staff. Universal masking will reduce the risk of transmission from staff who may be carrying SARS-CoV2 but are asymptomatic. In addition, face masks are widely used as an important part of droplet precautions when caring for patients with respiratory infections.
Outdoor Visitation Guidance for families visiting loved ones in long-term care facilities can be found here.
STATE SPENDING ON COVID
Current State Spending on COVID-19- Comptroller Mendoza launched an online portal tracking COVID-19 expenditures. The portal, which is to be updated daily, will show COVID 19-related purchases and amounts spent on supplies. The portal is available at: illinoiscomptroller.gov/covid19-information/
ACTIVITIES FOR ADULTS WHILE SOCIAL DISTANCING
CENSUS
Complete the 2020 Census Online. Illinois residents can now complete the census questionnaire online at my2020census.gov. Completing the census online will ensure that Illinoisans get both the representation and federal funding for the critical services that they deserve,

The online questionnaire is the quickest and easiest way to get counted in Illinois and can be accessed from a smart phone, tablet, laptop, computer and terminals at local libraries. The census is nine questions long and will take less than 10 minutes to complete.
An accurate count of Illinois' population is essential to ensure the State receives the funding needed to properly care for its residents and provide critical services and programs. In 2015, Illinois received $19,738,866,367, or approximately $1,535 per capita, in federal assistance for sixteen programs. Failure to count every Illinois resident will have devastating effects on Illinois' ability to meet the needs of its residents. Even a one-percent undercount would result in the loss of $19,557,435 per year, for a decade, resulting in a total loss of $195,574,350 for the State of Illinois. Additionally, the number of seats Illinois has in the U.S. House of Representatives for the next 10 years will be determined by the census count this year. Illinoisans deserve proportionate representation in the U.S. Congress, and a fair and accurate census count is how we ensure that happens.
The Census Bureau has extended the window for field data collection and self-responses to October 31, 2020.
If you are interested in viewing Census response rates, the US Census has launched an interactive tool. You can view response rates by date and geographic region. For more information about the US Census, please visit www.2020census.gov.
UNIVERSITY OF ILLINOIS EXTENSION OFFERS FREE WEBINARS AND TRAININGS. With all in-person meetings currently canceled or postponed until after May 31, U of I Extension is expanding their online webinars and trainings. Check back frequently for new upcoming or recorded webinars. These are offered by Illinois Extension professionals unless otherwise noted. Learn more here.